Carpet
Our goal is not only to address the topic of the city of tomorrow and sustainability on our carpet, but also to produce the carpet sustainably. We have therefore selected a company that produces the carpet 100% in Germany.
The pressure:
Water is required for carpet production and printing. Our partner company relies on digital printing, which requires much less water compared to the Chromojet printing process. The water is taken from a river and returned clean after the colors have been completely filtered and cleaned.
Unsere Kinderteppiche
Für die Herstellung von Teppichen und den Druck wird Wasser benötigt. Unser Partnerunternehmen setzt dabei auf den Digitaldruck, wodurch, im Vergleich zum Chromojet-Druckverfahren sehr viel weniger Wasser benötigt wird. Das Wasser wird einem Fluss entnommen und nach kompletter Filtrierung der Farben und Reinigung wieder sauber zurückgeleitet wird.
Bei der Teppichproduktion anfallende Schnittreste werden gesammelt, zu Ballen gepresst und unter anderem an den Hauptgarnlieferanten verkauft. Dort werden die Materialien für die Wiederverwendung vorbereitet.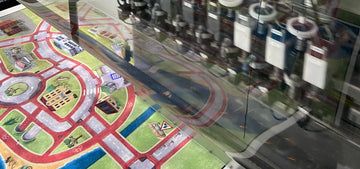 Der Weg zu einem wirklich nachhaltigen Teppich
Mit dem aktuellen Teppich sind wir sehr zufrieden. Uns ist aber bewusst, dass da noch Luft nach oben ist. Unser Ziel ist, für den Teppich auch ein nachhaltiges Material anzubieten. Unser Teppich besteht momentan noch zu 100% aus konventionellem Polyamid, hergestellt nach DIN EN 14215. Es gibt zwar schon nachhaltige Materialien für Teppiche, leider aber noch nicht zu Preisen, zu denen wir auch genügend Teppiche verkaufen können, um uns selbst zu tragen. Unser Partnerunternehmen ist aber gerade an der Entwicklung dran und wir hoffen, bald auch beim Material top aufgestellt zu sein!
Unsere Spielzeugfahrräder
Unsere Fahrräder haben wir in Kiel mit einem Tischler zusammen entwickelt. Eine Manufaktur im Erzgebirge produziert sie jetzt aus für Spielzeug zugelassenem Birke Multiplex-Holz. Das Erzgebirge ist bekannt für die Verarbeitung von Holz. Wird sie sehr froh, ein sehr vertrauensvolles Verhältnis aufgebaut zu haben.
Die Räder werden mit natürlichen und toxikologisch unbedenklichen Farben gebeizt und schließlich lackiert. Um die Einzelteile zu verleimen, verwenden wir einen für Spielzeug zugelassenen Holzleim. Natürlich sind in diesem Leim keine Lösungsmittel oder Formaldehydzusatz enthalten.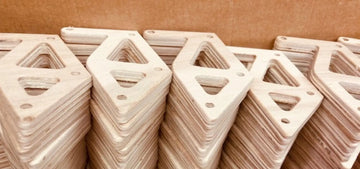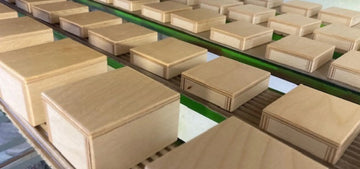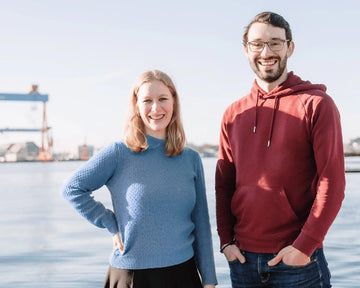 And what about us?
Of course, we not only want to be transparent about our products, but also about ourselves.
Since December 2022, we have been supported by the Schleswig-Holstein start-up scholarship and receive €1,750 per person, from which social security and income tax are deducted.
This means we can barely cover our costs. We will be funded through this until the end of November 2023. Whether and how we can continue with Spielwende depends on the success of our crowdfunding campaign. Depending on how successful it is, at least one of us can continue to work on Spielwende and develop further products, at least part-time.
That's why we're very happy about your support! 😊